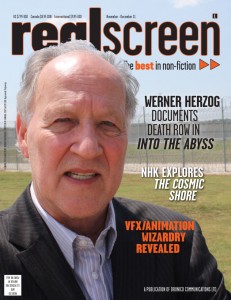 Realscreen is the only international magazine devoted exclusively to the non-fiction film and television industries. Realscreen aims to bring diverse communities together for dialog, debate and discussion about the global business of factual entertainment.
This is achieved through various printed publications, interactive media and live events.
Realscreen Magazine is published six times per year and personally addressed copies are mailed to over 6,600, producers, distributors, broadcasters and suppliers globally. Circulation is supplemented by distribution at all major international markets and festivals dedicated to non-fiction. The magazine keeps readers informed about emerging audience and production trends, best business practices and industry opinion.
Realscreen.com is an online destination where the international non-fiction community can find the best and latest work, industry information and community blogs, and 13,000 subscribers receive breaking news and profiles of industry leaders in their Inbox via realscreen's daily newsletter.